Local History Books across the East Hills District
Andrew's books were written and published between 2004 and 2006 and have sold in excess of 5000 copies. However lots of people are still only finding out about them.
The books are large A4 sized - The History of Padstow (280 pages); The History of Revesby (210 pages); The History of Panania Picnic Point and East Hills (250 pages); The History of Milperra (200 pages).
Andrew Molloy's local history books, are $30 each (incl. GST).
How you can obtain the books:
1. Buy locally at one of two landmark local family businesses
The Professionals Real Estate Agency
2 Faraday Road
Padstow 2211

or
Parker's Shoes
70 Anderson Avenue
Panania 2213.
2. Contact us
We can take Pay Pal (details upon reply) or Credit Card (Visa/ Mastercard) over the phone.

We offer:

FREE delivery anywhere in the East Hills district.
We can post these anywhere in Australia. The books are $30 each with a flat fee of $15.00 (incl. GST) for 1-3 books anywhere in Australia. However, if you buy all 4 titles receive FREE POSTAGE.
If you are outside Australia, then message to arrange a quote for postage.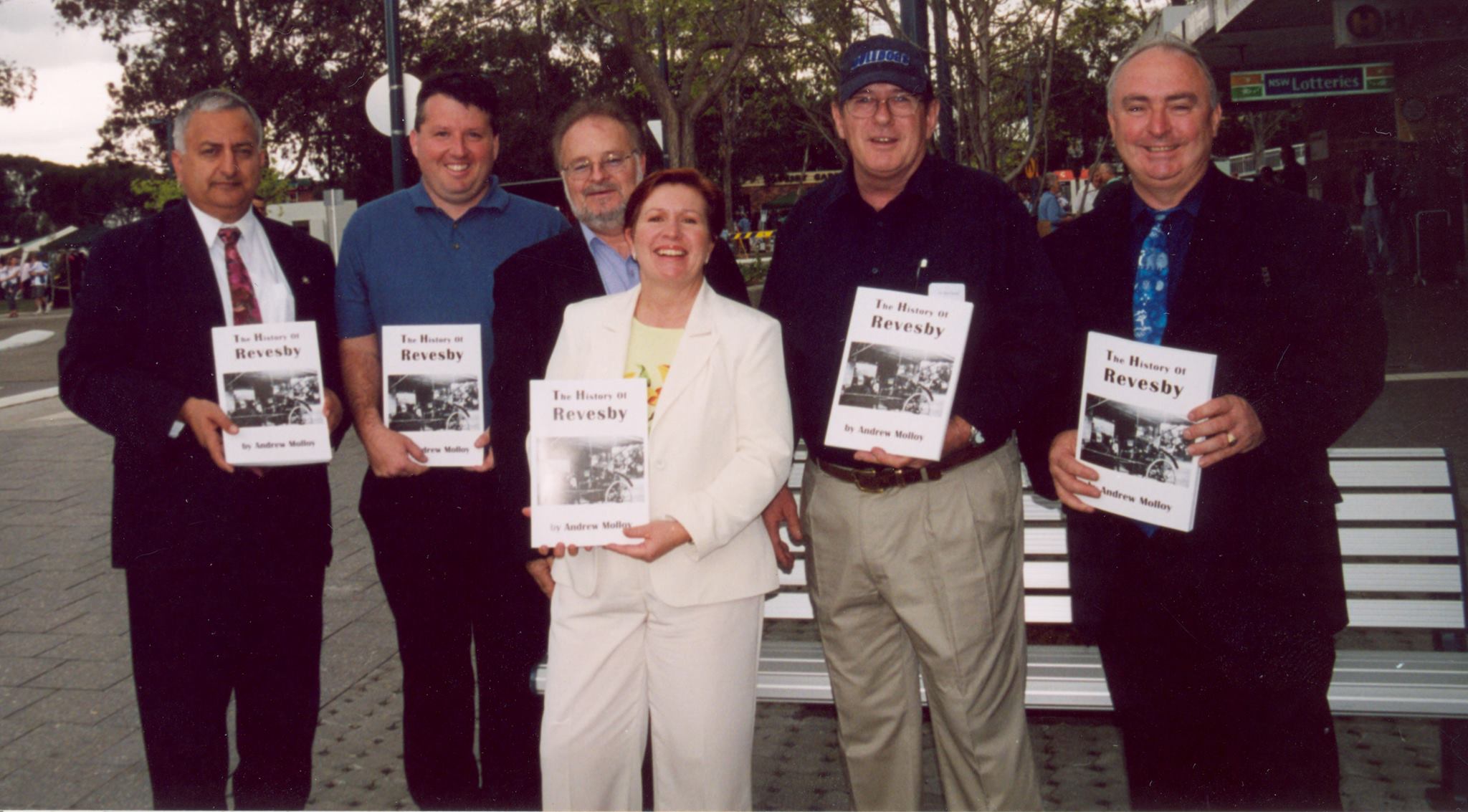 Book Launch for my second book "The History of Revesby" with former Member for Banks, Mr Daryl Melham; (Andrew Molloy); former Member for East Hills, Mr Alan Ashton; former Mayor of Bankstown Helen Westwood; Councillors Max Parker and Allan Winterbottom. September 2004.
a review by former Member for East Hills, Alan Ashton
A review of the History of Padstow shortly after release:
"The book is in the fine tradition of a mixture of oral, pictorial, anecdotal and historical evidence based on maps, photographs, diagrams and the like, most of which have never been published or seen by most people in Bankstown."
"Andrew Molloy undertook his history completely on his own, not on a whim. I have reason to know that he was a great historian. He talks about the earliest land grants, the history of the Great Depression in Padstow, the speculators and the first settlers."
"Andrew Molloy also documents the years of progress up to 1931 and notes that the arrival of the rail line gave the suburb great impetus. He also chronicles Padstow before the Second World War and immediately afterward. He has included photographs of many of the shops in the early days of the district and mentions many of the famous Padstow families."
Extracts taken from: Corrected Copy NSW Legislative Assembly Hansard Article No.36 of 11/03/2004. THE HISTORY OF PADSTOW Page: 7191. Speaker: Mr ALAN ASHTON (East Hills) [5.17 p.m.] in PRIV; Private Members Statements.